Library Media Center Given New Life as More Options Offered
December 6, 2019
If you've been up to the library recently, you may have noticed some changes. It's under new leadership this year, with Abby Mussmann, head librarian, taking over as librarian from Karen Ward after she retired last year. Mussman has revamped the library into a more student-friendly, pleasant space. 
Some of the biggest things that have changed are a new focus on charging stations, comfier seating areas, and more flexible seating arrangements, to accommodate everyone who wants to be there. With these changes, students can use the many easily accessed charging stations not only for Chromebooks but for personal devices as well. Before, most of the seating was longer wooden tables with wooden chairs, for working on homework or classwork. Now, couches and armchairs are arranged in comfortable ways that allow for a more relaxed atmosphere. These can also be moved around to facilitate different sized groups and different ways to use the space. "Later today I've got two different classes coming in to work together on one project, so flexible seating is probably the biggest thing," Mussman said. 
Mussman said that she felt like Central had been focused on a more traditional library style for a long time. "When you look at college readiness, part of that is creating an environment where students can experience that atmosphere."
"
When you look at college readiness, part of that is creating an environment where students can experience that atmosphere."
— Abby Mussman
Giving students more experience with college-like surroundings is one reason that the DC Coffee Shop will be operating not only on Friday mornings but also on Wednesdays during 4th block. The plan for more hours is also why tall bistro tables have been added to the seating arrangements by the windows. "We are trying to encourage coming to a quiet user-friendly place, where students can come in and use the library for multiple purposes, especially enhancing study skills," said Mussman. 
These changes have made a difference both in how many students use the library and how they use it. "When I first took over, I might have only seen maybe a dozen students a day using the library, and now it's anywhere between a hundred and a hundred and twenty kids," said Mussman. Students come in for varied purposes, from using the library for a quiet place to eat lunch, to people who have an open block and use the library as a place to study, or even classes who come in to use the library as a classroom. Ms. Heninger, whose classes use the library often, says that "it seems more relaxed, more of a college atmosphere. It seems more coffee shop like and people feel more comfortable studying there."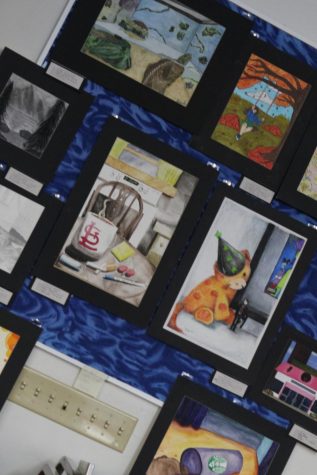 Another new way to increase student engagement and ownership of the library is adding an Artist of the Month feature. "Central artists are incredibly unique and we have so many amazing artists, so we've put, throughout the library, different student artworks. The next layer of the plan is to do staff art because we have some talented teachers and paraeducators and security staff," said Mussman. She wants students to be able to appreciate not only their peer's artwork but also their teachers' and the adults they see every day. The first featured Artist of the Month was Ms. Schroeder. Mussman said, "I selected her because I know she has some cool art, and I've known her for a while." Eventually, the goal is to have students or teachers themselves speak up to say they or someone they know would like to be featured as Artist of the Month. 
The last change that is happening to the library is eventually, Mussman hopes to be able to go into classrooms and teach. "Once I get a regular paraeducator in here, I can start doing a schedule where I'm going into the classrooms to teach about databases and research and citations and all of that kind of stuff."
 "I'm excited to see the way that students are starting to come in and use the library, so it's a cool process and I'm enjoying it a lot," said Mussman. With more comfortable seating arrangements, a more collegelike atmospheres, and more emphasis on Central's students, the changes that have come to the library are almost certainly for the better.