Dance Marathon to Hit Central
Central's National Honors Society (NHS) will be hosting a Dance Marathon on Friday, March 6th at 5:00, in George Marshall Gym.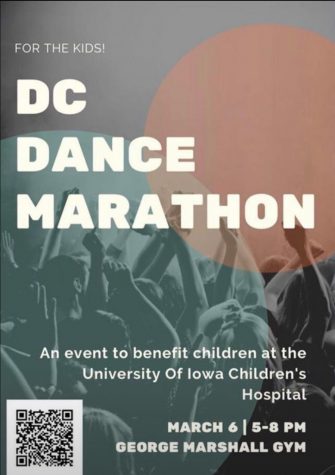 First, what is Dance Marathon? Dance Marathon started in 1994 at the University of Iowa. Students organized with the Children's Miracle Network and planned the event, raising $31,000 in that first year alone. The goal of the participants at the Big Event is to raise money by remaining standing (and dancing) for 24 hours. No breaks, no caffeine. They've been rather successful, seeing that they've raised over $30,000,000. 
Will Central's Dance Marathon be this intense? No. Central's will only be about 3 hours, and you can take breaks from dancing. In fact, you're encouraged to so you can see the concessions and various games and activities, including a prize wheel from Raising Cane's, limbo, a cake walk, cornhole, and more. But if you come to dance, fear not. Various groups, including the show choir and the drama club, are going to lead various dances, plus there will be a DJ playing plenty of music. 
To organize this, NHS split into several committees to work together to organize the dance and fundraise other money through scrunchie and bake sales. The organization was headed up by two officers and Dance Marathon captains, Waveland Rushton and Amelia Balk, the latter of whom says that doing good is the best part. 
"[The best part is] knowing it's for a good cause and getting to have fun with my friends and everyone that shows up," Balk said over instant messaging. 
But it hasn't been easy. Balk says that the hardest part is, "trying to get the student body of 100+ in NHS to participate in their committees and the overall organization of coordinating with everyone's committees." Balk is grateful for her co-captain and other officers and the advisors, Mrs. Day and Mrs. Johnston for helping keep everything organized. 
If you want to donate to the cause, you're in good company. German Club, STUCO, Art Club, Baseball, and more have all made donations. Sports, departments, and teachers have all thrown their hats in the ring as well. How can you donate? If you bought a scrunchie or from one of the NHS bake sales over the last few weeks, you've already contributed. You can donate money in the administrative office and get your name on a trophy to stick on the window. Finally, come to the dance! $5 dollars to get in, and make sure to mention your favorite NHS member (or the author of this article). See you there!