Governor Reynolds Announces New COVID regulations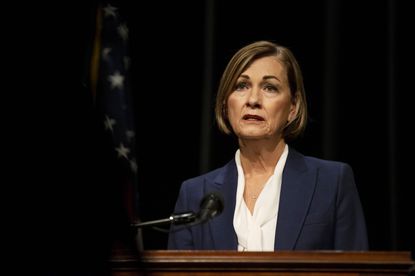 In wake of rising of COVID cases in Iowa, Governor Reynolds has signed a proclamation which states several new regulations that Iowans must follow in order to reduce the damage COVID has done, is doing, and will do in our community. 
These include new regulations about mask use, gatherings, sports and recreational events, restaurants, and more. We should do what we can to follow these instructions to protect others from this disease. 
Below are the new regulations as they apply to us students.
Mask Use
When in indoor spaces open to the public (restaurants, stores, etc.) & state executive branch buildings (post office, city hall, etc.), masks are required when individuals are within 6 feet of one another for 15 minutes or longer (with certain exceptions).
Gatherings
No more than 15 people indoors and 30 people outdoors. These do not apply to gatherings that occur during the ordinary course of business (such as when you are at work).
Sporting and Recreational Events
Youth and adult group sporting and recreational gathering are prohibited except for high school, college, and professional sports. So, if you do any sports outside of high school (such as non-Central club sports, intramurals, etc.), they will temporarily cease unless they are disobeying the Governor's instructions or have not heard of them. 
High School Sports and Extracurriculars
Only two spectators per high school athlete, performer or competitor. These people must wear a mask and maintain 6 feet distance from other spectators (this rule applies to parents, guardians, or anyone else who wants to see the game, performance, etc.). Students, however, can be closer than six feet and are not required to wear masks.
Restaurants
Restaurants are closed to in-person services (basically anything except delivery) at 10:00 pm. There will be no bar seating, and masks required when not seated (while playing games, dancing, etc.). Of course, a six foot distance between groups is required, and groups are limited to 8 people (unless a larger group is all from the same household). Finally, you must remain seated when eating or drinking and limit congregating (try not to gather into a crowd or sit in crowded places). 
Fitness Centers
Group health activities are not allowed. Whether gyms or fitness centers are actually open will vary, but it is clear that group yoga, cycling, dance classes and so on that take place in fitness centers will be ceased. 
Miscellaneous
Bowling alleys, pool halls, bingo halls, arcades, indoor playgrounds, children's play centers, and other establishments where you have to gather with other people for long periods of time are closed to in-person services past 10:00 pm. Masks are required when you aren't seated to eat or drink. Groups have to be 6 feet apart, and groups have to be limited to 8 people unless a larger group is from the same household. 
How long does this last?
These regulations are effective until Thursday, December 10 at 11:59 pm. 
For more information, please see this press release from the Iowa Department of Health.