Central's Maitreyi Shrikhande Makes It to State Tennis!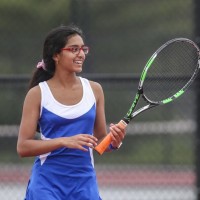 Senior Maitreyi Shrikhande recently claimed victory in the MAC Tennis conference, qualifying her for the state tennis championship. She shared her experience in an interview with the Blackhawk Newspaper.
How long have you been playing Tennis?
I have been playing tennis since I was 5 years old, so 13 years. I started playing competitively when I was in 6th grade.
What was the main factor that contributed to your success in making it to state?
I would say mindset was a main factor that contributed to my success in making it to state. I knew I was capable of doing it, so I just had to believe that I would do it. This helped me reduce my nerves and trust my strokes. Another factor that helped me succeed is playing with strategy, I recognized my opponent´s weaknesses and attacked those.
What was your experience during the final match that you won in order to make it to state? How did you feel?

Winning the semifinal match that secured my spot at state was a great feeling, but it didn't really hit me until after I walked off court. In the moment I was just proud of myself for ending a tough match, especially in the heat which was probably the hardest part of the whole experience. But off court I was just really happy to have reached my goal and felt excited to represent Central at the state level for tennis.
What advice would you give to aspiring young athletes who want to reach the same level of success you have? 
I would tell younger athletes that when practicing for your sport, practice like you are in a match or game. Practicing like matches is something my coach always tells me. When you practice make sure you are not just being repetitive but fix your mistakes and think critically about what you are doing in order to improve.