The (Political) Situation
Where we are now in the election process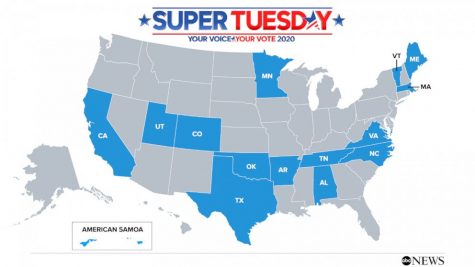 March 2
A lot has happened since the U.S began to cast votes for their candidate of choice. Many candidates have left the race – but some have joined it. As certain candidates rise to the choice of voters' minds, others sink to the bottom. But where are we now? What is going on in the 2020 race that decides America's fate? I have done my best below to tell you.
Who's dropped out?
Tom Steyer, Pete Buttigieg and Amy Klobuchar have all dropped out as of March 1.
Who's still in?
Bernie Sanders

Joe Biden

Michael Bloomberg

Elizabeth Warren

Tulsi Gabbard
See "The 2020 Candidates" for more information about these candidates
What has happened so far?
Here's a list of the states that have voted in the quest to secure their democratic nomination, and their winners.
Buttigieg technically won this one, but it was very close to a tie with Sanders (see "After Iowa Caucus Fiasco, Close Results Turn to Buttigieg's Favor" for more information on this near tie)
Sanders won New Hampshire by a close margin. Buttigieg came second.
Sanders won by a landslide, securing a 46.8% of the popular vote and 24 delegates. The nearest to him was Biden, with 20.2% of the vote and 9 delegates.
Biden decisively won South Carolina, saving his campaign, with 48.4% of the popular vote and 35 delegates. The closest to him was Sanders, with 19.9% and 13. 
What's happening next?
Super Tuesday – Super Tuesday can reasonably be considered the most important day in all of this year's democratic primaries. 14 states hold primaries to vote on their candidate of choice. This happens tomorrow. 
The winner of these caucuses will reach a very strong grounds for becoming the democratic nominee. According to the year's results so far, the front runner is definitely Sanders, with Biden behind him. However, since these results are limited to only a few states, a different winner could still arise.